The average New Zealand household produces around 100 litres per week of moisture in the home from everyday activities such as cooking, showers and breathing*.

Get healthier and cleaner air with a home ventilation system that reduces condensation.

Home ventilation systems can be designed to make use of excess heat or introduce cooler fresher air in the summer, keeping your home and family happier and healthier year-round.
There are various ways to ventilate your home. You can open doors and windows to allow natural ventilation. You can use extract systems to extract the air from inside your home, such as a kitchen or bathroom extract. Or, you can install a home ventilation system to further reduce moisture in your home, while introducing fresh, dry air from outside.
---
Positive Pressure System
Positive Pressure Ventilation Systems draw fresher drier air into your home from either the roof cavity or outside. This air is passed through a high-efficiency filter and introduced into your home. This introduced air forces out the moist, stale air that causes condensation and mould through gaps around doors and windows. Dryer air is easier to heat. This system does not heat the air.
Various additional extras are available such as heat transfer kits, extension kits, and colour LCD controllers to accommodate your specific requirements.
Prices start at $2,000 inc gst.
---
Energy Recovery Ventilators (Balanced Pressure System)
Similar to positive pressure ventilation systems, however, heat is recovered from the exhaust air.
They recover the heat from the air inside your home and they transfer the heat to the fresh, dry air being introduced from outside. Not only does this save you money in winter by warming the cold fresh air but it also provides the same excellent energy efficiency in the summer. These systems can be operated independently or can be integrated with a ducted heat pump system.
Prices start at $3,500 inc gst.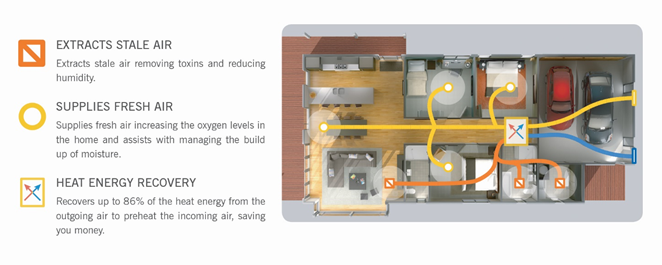 *Source – EECA (Energy Efficiency & Conservation Authority)